The Immunology platform is part of IRESSEF's operational units conducting routine and research activities in collaboration with national institutions and international partners.
She has extensive experience in the immunologic monitoring of PV-HIV and point-of-care validation (POC) used for lymphocyte counting.
She is interested in the identification and evaluation of new biomarkers that can serve as a diagnostic tool and / or potential candidate vaccine.
It is also involved in the validation of new diagnostic techniques for tuberculosis using new biomarkers. In terms of research, the Immunology platform is involved in the study of the correlates of HIV protection among subjects at risk (HIV serodiscordant couples and sex workers) to contribute to vaccine research programs as well as study of markers associated with progression of HIV and tuberculosis.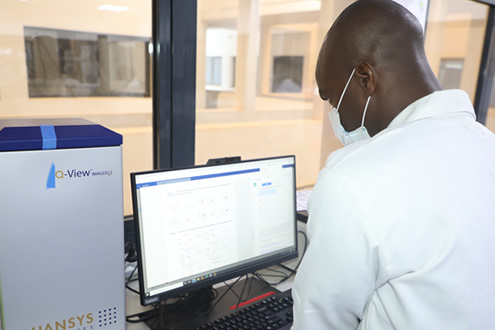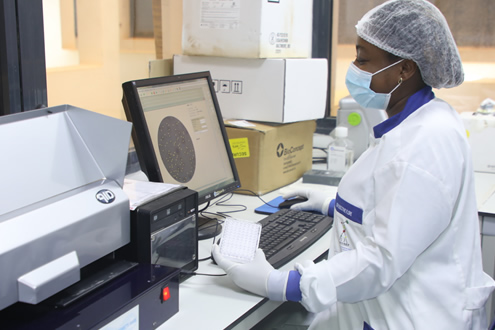 She is also actively involved in research on neglected tropical diseases, including the study of immunoregulation and immunopathology of schistosomiasis.
But also in the study of the environmental impact on the immune response which is a fundamental element of the vaccine responses. The Immunology platform has also participated in numerous phase II vaccine trials including tuberculosis with AFTBVAC projects in collaboration with Oxford University, the phase IIb project evaluating the efficacy of MVA85A in HIV + subjects, against malaria and more recently the Ebola vaccine trials (EBL06) evaluating the safety and immunogenicity of the ChAd3 / MVA prime-boost vaccine, that of GSK and that of Merck.
She is also involved in the training of students from the Faculty of Medicine and Pharmacy but also from the Faculty of Science and Technology as part of their Masters, PhD and PhD.
The Immunology platform is also involved in the training of technicians and biologists from the country and the African continent (DU of Biological Retrovirology, Workshops and Seminars on Cytometry, ELISPOT and also on LUMINEX).
A generation of Senegalese and foreign researchers rooted in our socio-cultural realities
+221778582668 | +221766562757
Mon. - Fri. 08:00 - 16:00
Arrondissement 4 Rue 2 D1, Pole Urbain de Diamniadio, BP 7325, Dakar Sénégal
Route de Ngor en Face du Stade de Ngor